Structure and Funding
First 5 Association of California unites 58 county commissions around a common agenda to advance an integrated and effective early childhood system of care.  Through collaboration with early childhood advocates and all First 5 commissions, the Association plays a key role in promoting efforts to successfully address disparities affecting children 0-5 throughout the state. Building upon investments in early identification and intervention systems being made by most First 5 Commissions, Help Me Grow easily fits into the framework of First 5's structure.
The Help Me Grow system is designed to help leverage existing resources to ensure communities identify vulnerable children, establish links to community-based services, and empower families to support their child's healthy development through the implementation of four interconnected Core Components: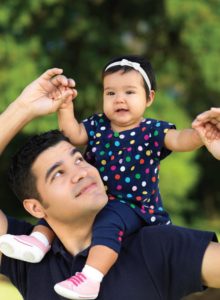 Centralized Point of Access: Streamlining access to child development information, support and referrals to help families navigate California's complex intervention system
Family and Community Outreach: Building awareness and linkage across support systems
Healthcare Provider Outreach: Collaborating with healthcare professionals to ensure children receive developmental screenings
Data Collection and Analysis: Identifying gaps in service and opportunities for greater collaboration and systems improvement
The core components of the Help Me Grow system have been shown to decrease medical costs, build family resilience and protective factors, as well as maximize referral and linkage efficiency by creating a pathway to services through a centralized access point.  
First 5 is a primary funder of Help Me Grow systems throughout the state, but by 2020, First 5 Commissions will only be able to invest $125 per child as compared to $9,500 spent per child enrolled in Head Start programs and services in California. With projected revenues from Prop 10 steadily declining, First 5 commissions have found it increasingly difficult to solely support investments in important systems such as Help Me Grow, and have worked to build partnerships among supplemental funding sources such as: Child Health and Disability Prevention Program (CHDP), Federal Matching for Administrative Activities (MAA), California's Mental Health Services Act (MHSA), Early and Periodic Screening, Diagnostic and Treatment (EPSDT), private foundations, Intergovernmental Transfers (IGT), and county CalWORKS programs.   It is time for California to recognize Help Me Grow's critical role and invest in the system's expansion and sustainability to ensure we achieve the goal of reaching 80% of California's children by the end of 2018.